If you love Japanese food, then you should try Alaska Roll Sushi. This sushi is a delicious and light appetizer and its ingredients are easy to find.
Also making it easier and it doesn't take time.
You came across this page you have searched for Alaska sushi recipes, now let's get to work and show you what you need and how to prepare this appetizer. 
Alaska Roll Sushi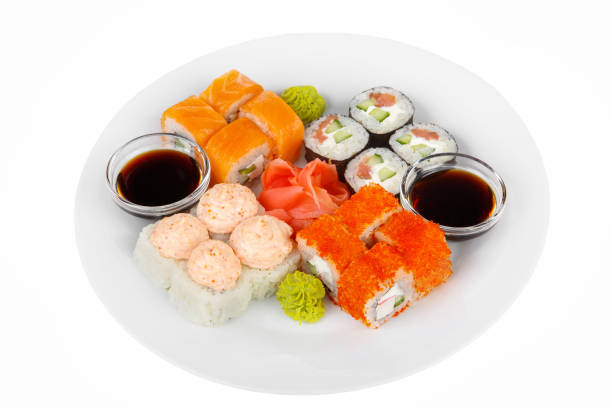 Alaska Sushi Roll is a super healthy and protein-packed Japanese appetizer. It can also be used as a dinner option. 
You can easily make these rolls using white or black rice and with Pot Sushi Rice or Instant Pot Black Rice as it makes it super easy and quick to make.
You can also pair it with Ginger Dressing or, add a dab of Chili Crisp on top if you want a spicy kick.
Ingredients for Alaska Roll Sushi 
These ingredients will be talked about in two sections. We will talk about the ingredients for the sushi rice and the ingredients for the sushi roll and how to prepare them.
Ingredients for the Sushi Rice
For the Sushi rice, get:
Sushi rice of your choice 
Nori seaweed paper 
Salt
Some good brands of sushi rice that work well for this Alaska roll sushi recipe and you can make use of are;
Lundberg Organic California Sushi Rice, Botan Calrose Rice
Nishiki Premium Grade Rice.
You can Nori Seaweed Paper or nori sheets at most grocery stores in the Asian section.
How To Prepare The Sushi Rice
Wash the rice in clean water with a fine mesh strainer to remove excess starch.
Shake off excess water from the rice
Add washed rice and 1 teaspoon of salt to the instant pot. Add water.
Cook the rice in an instant pot with a high-pressure setting for 6 minutes.
Pour rice into a bowl after 6 minutes
Add rice vinegar over the rice.
Fold rice to combine rice vinegar, ensuring not smash the rice.
Then make a spicy crab mix with Shred imitation crab meat or Alaskan crab meat and with mayonnaise and sriracha.
Ingredients for Sushi Roll 
To make the sushi roll, get:
Nori Seaweed Paper
Sushi-Grade Salmon Filet
Sriracha
Imitation or Real Alaskan Crab
Cucumber
Avocado
Mayonnaise
Picked ginger
Wasabi (optional)
How to Make Alaska Roll Sushi
Cover the bamboo sushi rolling mat with plastic wrap.
Place a sheet of nori seaweed paper on the mat.
Keep a bowl of water and a towel near you.
Spread a layer of rice across the nori using about 1 cup of cooked rice per full nori sheet.
Ensure that the rice is spread over the whole surface of the nori seaweed paper.
Lay slices of salmon over half of it.
Flip the nori over to make the rice/salmon side down, and nori up.
Put 2 tablespoons of crab mix, 2 slices avocado, and 3-4 thin cucumber strips lengthwise in a strip across the rice.
It should be placed about 1 inch or so from the bottom of the rice paper.
Use the bamboo mat to lift the edges up and over filling and use your fingers to tuck the roll.
Tuck the mat tightly into a roll shape such that only nori with no rice is exposed, then pull back and tighten.
Move the mat and shape repeatedly squeeze and shape.
Slice and wipe with a wet towel after each slice to prevent the knife from getting too sticky.
Cut in half and then cut each half into 3 segments.
Alternative Sources and Topping
For optional sauce you can use:
Spicy Sriracha Mayo
Bang Bang Sauce
Eel Sauce
White or black sesame seeds
Spicy Sriracha mayo is made with ⅓ cup of mayo and 1 tablespoon of Sriracha.
You can add a squeeze of lemon and a pinch of sugar if you want.
Eel sauce is made of sake, mirin, or rice vinegar, and soy sauce and white wine that you may already have on hand!
Cooking Information
Main CourseCuisine: Japanese
Prep Time: 10 minutesCook
Time: 30 minutes
Total Time: 45 minutes
Servings: 1 sushi roll
Nutrition Facts
Calories: 1399kcal
Carbohydrates: 173g
Protein: 55g
Fat: 55g
Saturated Fat: 8g
Cholesterol: 98mg
Sodium: 2532mg
Potassium: 2494mg
Fiber: 22g
Sugar: 2g
Vitamin A: 627IU
Vitamin C: 31mg
Calcium: 125mg
Iron: 5mg
Storage Information
Alaska roll sushi recipes are not suitable for storage. Ensure you eat immediately.
Health Benefits
The Alaska Roll Sushi Roll is a great international sushi dish.
Moreover, almost all of the ingredients in this sushi roll are nutrient-rich.
However, imitation crab might be unhealthy to some people since it is processed white fish which is protein rich and low in calories.
Final Note
For the lover of Japanese sushi, Alaska roll sushi is one of those you should try. It can be used as an appetizer or dinner option as it is delicious and easy to make. 
To enjoy this sushi, you need to prepare the sushi rice and then the sushi roll with sauce.
We have explained in detail the ingredients you need to prepare the sushi rice as well as the sushi roll. We have also analyzed in detail how best to prepare your sushi rice, sushi roll and, alternative sauce. 
This sushi contains 1399 kcal Calories, 173 g
Carbohydrates, 55 g protein: 55 g Fat, 8 g Saturated Fat, 98 mg Cholesterol, 2532 mg Sodium, 2494 mg Potassium, 22 g Fiber, 2 g Sugar, 627 IU Vitamin A, 31 mg Vitamin C, 125 mg Calcium, 5 mg Iron.
In addition to that, this sushi can be prepared in 45 minutes.
Meanwhile, it is not suitable for storage, so you have to consume it immediately.
We hope that you find this article helpful!