If you are looking for perfect and simple recipes for chicken tetrazini, then you have come across the right guide.
Tetrazini is a delicious and healthy recipe that you will enjoy, with its satisfying and comforting meal that just makes it nothing but a special meal.
Let's get started fully on chicken tetrazini recipes, the equipment, the tips, and nutritional and storage information.
About Chicken Tetrazini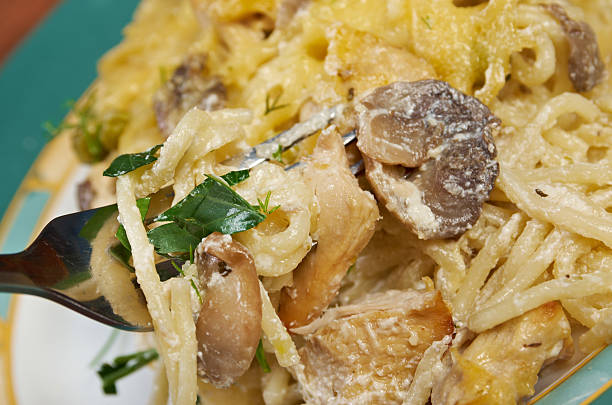 The tetrazini dish is American and named after a famous opera singer.
Its major ingredients are chicken, pasta, chicken broth, milk, peas, mushrooms, flour, and seasonings.
The recipe contains pantry-friendly ingredients that are easy to get or you probably already have.
You can make this family-friendly creamy pasta bake in 30 minutes or less.
Equipment Needed for Chicken Tetrazzini
Large Pot
Small Bowl
Whisk
8×8 inch Casserole Dish
Wooden Spoon or Nonstick Spatula
Knife
Cutting Board
Ingredients Needed for Chicken Tetrazini
4 Tablespoons of Butter
1 Medium diced Onion
1 cup of Sliced Mushrooms
¼ cup of All-Purpose Flour
2 cups of Milk
Salt and Pepper
1 teaspoon of Thyme
½ cup of Chicken Broth
2 ½ cups of Pasta
1 cup of frozen Green Peas
2 cups of Chopped, Cooked Chicken
¼ cup of Grated Parmesan Cheese
Ingredient Notes
Butter: you can use salted butter or olive oil as a substitute
Onion: You can use a yellow or white onion.
Mushrooms: You need fresh mushrooms, baby bella, or white mushrooms.
Milk: you can use either whole milk or 2%. However, you need light cream or half-heavy cream to make this pasta extra rich and creamy.
Thyme: You can use dried or fresh thyme
Chicken Broth: Chicken, beef, or vegetable broth can also be used; you could also use cooking white wine.
Pasta: Rotini, but penne or any other pasta shape of your choice will do.
Green Peas: You will need to get frozen peas.
Chicken: You can use a rotisserie-cooked chicken as it will help use leftovers. You can also use turkey.
Parmesan Cheese: You will need to get grated parmesan cheese.
Flour: You can use all-purpose.
How to Make Chicken Tetrazini Recipe
Over medium heat, melt 2 Tablespoons of butter in a large pot
Add the onions and cook until golden for about 4 minutes once the butter is melted.
Add the sliced mushrooms and cook for about 4 minutes or until your desired color and texture
Remove the onions and mushrooms, and put them into a small bowl.
Add the remaining butter to the pot.
In another pot, prepare the pasta according to the package directions.
Whisk the all-purpose flour into the hot, melted butter to form a roux
Then whisk in the milk.
Season with salt, pepper, and thyme, then cook for 8 minutes until thickened.
Stir in the chicken broth, pasta, green peas, and cooked chicken
Cook until chicken is warmed through, then set in the oven to broil.
Pour the pasta mixture into the 8″ x 8″ casserole dish and spread the grated Parmesan cheese on it. 
Put the casserole dish in the oven and broil until the cheese is perfectly or golden brown and melted.
Remove from the oven, then top with fresh parsley and serve!
Cooking Information 
Prep time: 10 minutes
Cooking time: 20 minutes
Total time: 30 minutes
Nutritional Information
This meal contains the following nutritional information per serving
Calories: 482 kcal
Carbohydrates: 84g
Protein: 13g
Fat: 13g
Saturated Fat: 7g
Polyunsaturated Fat: 1g
Monounsaturated Fat: 3g
Trans Fat: 0.3g
Cholesterol: 34mg
Sodium: 245mg
Potassium: 684mg
Fiber: 8g
Sugar: 45g
Vitamin A: 604IU
Vitamin C: 16mg
Calcium: 181mg
Iron: 3mg
Serving Information 
You can serve chicken tetrazini with 
Air Fryer Brussels sprout
Homemade Garlic Bread From Scratch
Tuscan Roasted Parmesan Asparagus
Expert Tips for Making Chicken Tetrazini Recipe
If you want to make this recipe for a family reunion or a large purpose, you can double the ingredients or increase them proportionately and split them into two casserole dishes before broiling.
You can use veggies such as red peppers, spinach, broccoli, or zucchini if peas or mushrooms are not a favorite or your picky eaters won't touch them.
Also, you can use turkey instead of chicken as it is easy to transform leftover turkey into something delicious.
Instead of chicken broth, you can use cream of chicken soup or cream of mushroom soup.
In addition to that, you can take out the chicken and sub the chicken broth for vegetable broth for a creamy and delicious mushroom and pea pasta if you are making this recipe for a vegetarian.
How Prep and Store Chicken Tetrazini
If you want to make this recipe ahead of time, make the pasta mixture and prepare a casserole dish with the pasta.
Cover the dish and store in the fridge for 1-3 days until you are ready to cook in the oven.
Storage information
To store leftover chicken tetrazini, put it in an airtight container and store in the fridge for 3-4 days.
You can also freeze this recipe to make at another time by storing it in an aluminum tray covered.
Reheating Information
You can reheat this recipe in the casserole in the oven at 350 degrees for 15 minutes or reheat it in a microwave safe dish for 1-2 minutes in the microwave.
Conclusion
The chicken tetrazini dish is an American dish made of chicken, pasta, chicken broth, milk, peas, mushrooms, flour, and seasonings.
It is an easy meal with simple ingredients that can be prepared in 30 minutes.
You can prepare this meal ahead of time and increase the ingredients if you are cooking for a larger group of people.
This meal leftover is best stored in an airtight container and stored in a fridge for 3 to 4 days. It can also be stored in a freezer with an aluminum tray cover. 
In addition, you can substitute some of these recipes to suit your taste and choice.
It can also be served with Air Fryer Brussel Sprouts, Homemade Garlic Bread From Scratch, and Tuscan Roasted Parmesan Asparagus.
We hope that you have fun trying this recipe. What are your thoughts? Share them with us in the comment box.