Sopa de Conchas is a classic soup with pasta simmered in a light tomato sauce.
It comprises toasted pasta and hearty vegetables bathed in a spicy tomato broth. This Mexican sopita comes together in under 30 minutes.
Moreover, it is a simple recipe perfect for a quick meal that is good to feed any picky eater and cures even the worst of hangovers.
Also, it only takes 15 minutes to prepare!
In this guide, you will learn about Sopa de Conchas, the equipment, ingredients, cooking tips, and cooking and nutritional information.
What Is Sopa De Conchas?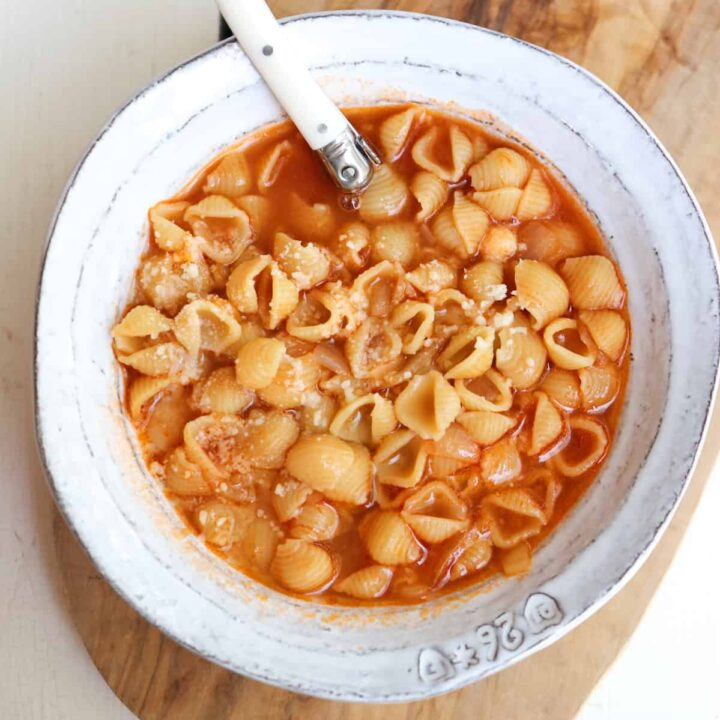 It is a classic Mexican dish known as shell pasta soup.
It is made with shell pasta and hearty vegetables simmered in a homemade tomato broth.
This Mexican sopita is a little smoky, slightly tangy, and full of comforting flavors when you pan-toast the pasta, which gives it a rich, nutty flavor, then simmer it with tomato broth and vegetables.
This recipe is 100% vegan, and it can be adapted to be gluten-free; when you use your favorite pasta brand, make sure to serve it hot off the stove for the best flavors!
In addition, all of the ingredients for this Mexican sopita go into one pot, making cleanup a breeze.
And with the right amount of spice, the tomato-based broth is incredibly comforting and filling.
More so, there is no special equipment or cooking expertise required to make this flavor-packed recipe.
Equipment Needed for Sopa De Conchas
Get
Ingredients Needed to Make Sopa De Conchas
5 Roma tomatoes
½ medium white onion
2-3 cloves of garlic
1 tablespoon of olive oil
1 package shell pasta
1 medium diced carrot
1 stalk of diced celery
6 cups of vegetable broth
2-3 sprigs of cilantro
Salt and pepper to taste
Ingredient to Garnishes (optional)
Vegan queso fresco
Avocado cubes
Lime wedges
Chopped cilantro
Ingredients Substitutions
Use Shell pasta made from durum wheat, as it is the optimal shape to scoop tomato broth in each bite.
Tomatoes are tangy, slightly acidic, and have garden-fresh flavors, making them the perfect soup base.
They offer a sweetness that rounds out the dish mice cooked.
You can also use canned tomatoes in this recipe; however, fresh tomato is always best.
White onions add a slightly sweet, sharp, and zesty flavor to salsas and soups.
The intense, spicy, and punchy flavors of garlic give this soup broth an irresistible aroma and savory taste.
To give the soup a nutty flavor, you can toast the pasta in olive oil before adding the broth.
You also can use any cooking oil that you have on hand, though, if you don't have olive oil.
Carrots give this soup a beautiful pop of color, slight sweetness, and extra nutrients like vitamin A, fiber, and potassium.
Celery is a classic soup ingredient that provides a hearty, savory element.
You can use zucchini, peas, or more carrots if you don't have celery.
Vegetable broth adds more flavor to this soup. As such, you can use a low-sodium variety so you can control the overall saltiness.
Cilantro adds a beautiful bright green color and an herbaceous flavor that takes this soup to the next level for the preferred garnish.
You can use any type of summer/winter squash, chayotes, leeks, celery, or cabbages as vegetables.
Instructions on How To Make Sopa De Conchas
Preheat your oven to 450°F
Line a baking sheet with aluminum foil in the oven.
Spread the tomato halves and onion quarters out evenly on the foil.
Roast for about 15 minutes or until they're softened and slightly blackened.
Add the tomatoes, onions, and garlic cloves to a blender and mix on high until smooth.
Prepare 6 cups of vegetable broth and set both aside.
Heat the olive oil over medium heat in a large stockpot.
Add the dry shell pasta in and toast, constantly stirring, for 2-3 minutes, or until fragrant, then remove from the pot.
Add the carrots and celery and sauté for another 2 to 3 minutes.
Pass on the pasta shells back in along with the salsa mixture.
Add the vegetable broth and cilantro sprigs, and bring the soup to a boil.
Cover and reduce the heat to simmer for 7 to 8 minutes or until the pasta is al dente.
Season with salt and pepper to taste.
Serve your soup immediately with your favorite garnishes.
Recipe Variations
To make your soup spicier, add jalapeños or serrano chiles.
Mince and sauté it with the other vegetables, or simmer it whole with the soup.
For a smokier flavor, add chipotles in adobo, morita chiles, or ancho chiles to the salsa.
Add your favorite gluten-free pasta noodles for a completely gluten-free option.
If you want to keep the calories low, skip the oil when you toast the pasta.
For additional spice, use cumin, coriander, Mexican oregano, or epazote to bring a unique twist to this simple dish.
Cooking Information
Prep time: 15 minutes
Cook time: 15 minutes
Total time: 30 minutes
Nutritional Information Per Serving
Calories: 282 kcal
Carbohydrates: 52.2g
Protein: 8.3g
Fat: 4.6g
Saturated Fat: 0.7g
Polyunsaturated Fat: 0.8g
Monounsaturated Fat: 2.7g
Trans Fat: 0g
Cholesterol: 0mg
Sodium: 1437.1mg
Potassium: 413 mg
Fiber: 3.6g
Sugar: 8g
Vitamin A: 4064.4IU
Vitamin C: 13.6mg
Calcium: 35mg
Iron: 1.1mg
Serving Information
You can pair this recipe with vegan bread and sandwiches like these:
Pickled jalapeños
Torta Cubana
Vegan Garlic Bread
Dairy-free Bread
Pambazos
Sopes
Expert Tips
For an even quicker, easier recipe, leave out the use of extra vegetables.
Fry the pasta in a touch of oil, bringing out nutty, toasted flavors.
Make the tomato broth from scratch to create the most vibrant sopa de conchas.
You can also use a store-bought version
Cut the vegetables into small chunks for even cooking.
Storage Information
Once your sopita has cooled down, you can transfer it to a large container and put it in the fridge. This was, it can last in the fridge for up to 3-4 days as the pasta will absorb more liquid as it sits longer
To store in the Freezer, divide it into single-serving sizes and ensure it's stored in freezer-safe bags or containers.
You can then Thaw it overnight in the fridge when you want to serve it again.
For the oil left over, you can use it in other recipes if you don't heat it to the point where it smokes.
Reheating Information
To reheat the leftover, Heat the soup in a saucepan over medium-low for about 2 to 3 minutes on your stovetop.
You can also microwave for 30-45 second bursts.
Conclusion
Sopa de conchas are made with shell pasta and hearty vegetables simmered in a homemade tomato broth.
This Mexican soup is a little smoky, slightly tangy, and full of comforting flavors when you pan-toast the pasta, which gives it a rich, nutty flavor, then simmer it with tomato broth and vegetables.
You can store it in an airtight container in the fridge or divide it into single serving sizes in freezer-safe bags or containers and store it in the freezer.
You can reheat for about 2 to 3 minutes on your stovetop or microwave for 30 to 45 seconds.
We hope you have fun trying this recipe.