Looking for IHOP menu with prices? In case you were unaware of the meaning of IHOP before now, it's simply the International House of Pancakes. Pancakes are predominantly a breakfast meal, hinting that the entire idea of IHOP is to serve appetizing breakfasts to customers throughout the year.
IHOP's operating hours and menu aren't uniform across the different outlets, thanks to the fact that most of the locations are independent franchises. In short, this article is simply a guide and you'll need to contact the specific location to see the correct menu.
That notwithstanding, you still deserve to know about most of the items on the IHOP menu and their prices. This article will outline some of the most popular items and how much you should expect to pay for them.
IHOP Menu with Prices
Pancakes
Double Blueberry Pancakes
$6.79
Original Buttermilk Pancakes
$5.69
Harvest Grain 'N Nut Pancakes
$6.99
Corn Cake Pancakes
$6.49
Chocolate Chip Pancakes
$6.79
Pancake Platter
$6.79
Pigs in Blankets
$6.79
Pancake Sandwich
$6.79
Strawberry Banana Pancakes
$6.79
Pancake Combo
Omelettes
The Big Steak Omelette
$8.99
Colorado Omelette
$8.99
Country Omelette
$8.49
Garden Omelette
$7.49
Chicken Fajita Omelette
$8.99
International Omelette
$7.49
Big Bacon Omelette
$7.99
Supreme Ham & Three Cheese Omelette
$7.99
Spinach & Mushroom Omelette
$7.99
Create Your Own Omelette
$5.99
Add Hashbrowns
Burgers And Sandwiches
BBQ Bacon Cheeseburger
$6.99
IHOP Cheeseburger
$6.59
Monster Cheeseburger
$7.99
Patty Melt
$6.99
Bacon & Egg Cheeseburger
$7.29
Double BLT
$6.49
Ham & Egg Melt
$7.29
Philly Cheese Steak Super Stacker
$7.99
Chicken Clubhouse Super Stacker
$7.99
Sourdough Bacon Burger Melt
$6.99
International Club
$7.29
Turkey Sandwich
$6.49
IHOP Breakfast Menu with Prices
Looking at the entire setup of the International House of Pancakes, you'll understand that it's a restaurant created to serve breakfast. This is pretty clear, especially when you look at the bulk of the items on the menu, as well as the opening time for the restaurant.
IHOP's breakfast isn't time-limited; you can always get breakfast anytime as long as you get to the location on time. Recall that independent franchisees mostly operated the restaurants, so you shouldn't expect any uniformity in the opening or closing hours across different outlets.
However, the minimum hours to keep using the brand's name are 7:00 am to 10:00 pm daily, which isn't terrible. Here are some of the breakfast items to order if you could make it into IHOP during the operating hours.
Country Breakfast Burrito and Bowl.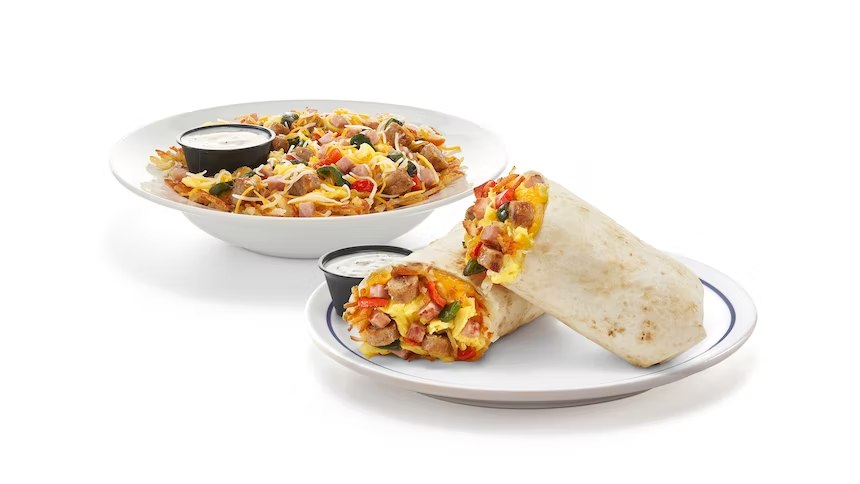 While this isn't the healthiest breakfast you've had in a while, it has the redeeming quality of being delicious, at least. Made from scrambled eggs with ham, sausage, cheddar cheese, hash browns, and a lot of other ingredients, it's certainly worth the $13.59 price.
The Classic Burrito and Bowl
The classic burrito and bowl are strikingly similar to the preceding item on this list, but it just feels somewhat different. If you're after a healthier burrito, this should be a compelling item for you, even if it's not much better than the country breakfast burrito. You can get the meal for $11.59, which is well worth it.
Spicy Shredded Beef Burrito and Bowl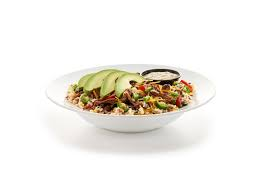 This is nothing like the classic or country breakfast burrito since it contains many spices that make it a whole different experience. The dish contains Poblano and Serano peppers, red peppers, onions, cheese, rice medley, and similar ingredients, wrapped in a tortilla or served in a bowl for $15.79 either way.
If you think the Poblano pepper spice is the primary reason, you love the spicy shredded beef burrito, why not make it the focus of your entire meal with the Spicy Poblano Omelet? The fire-roasted Poblano peppers combine with red bell peppers, cheese blend, and a variety of other ingredients for a delicious $18.49 meal.
Southwest Chicken Burrito and Bowl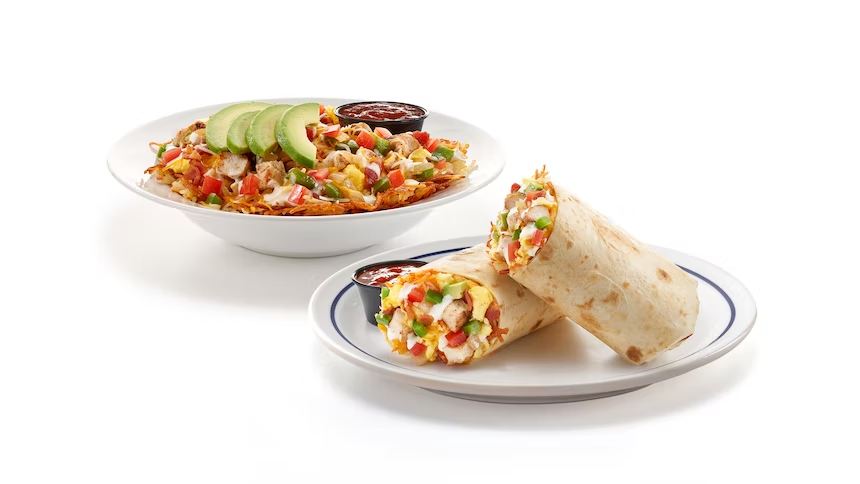 If you love the beef burrito but would rather get it without the beef, why not try the equally awesome chicken burrito or bowl? It also contains a similar set of ingredients, but with additional smoked bacon, queso sauce, and tomatoes. If you don't want the fluffy tortillas, you can get them in a bowl, both for $15.89.
IHOP Lunch Menu with Prices
While breakfast is the primary offering at IHOP, eating lunch at the restaurant isn't a rare phenomenon. There are a couple of items on the lunch menu that you can get if you make it in during the lunch hours, which does not differ from the regular operating hours at the restaurant.
IHOP makes it possible to eat from the breakfast, lunch, or dinner menu in the morning, afternoon, or evening. It doesn't matter when you make it into the restaurant; all that matters is the food you want to be available.
Here are some of the lunch menu items at the International House of Pancakes with their corresponding prices.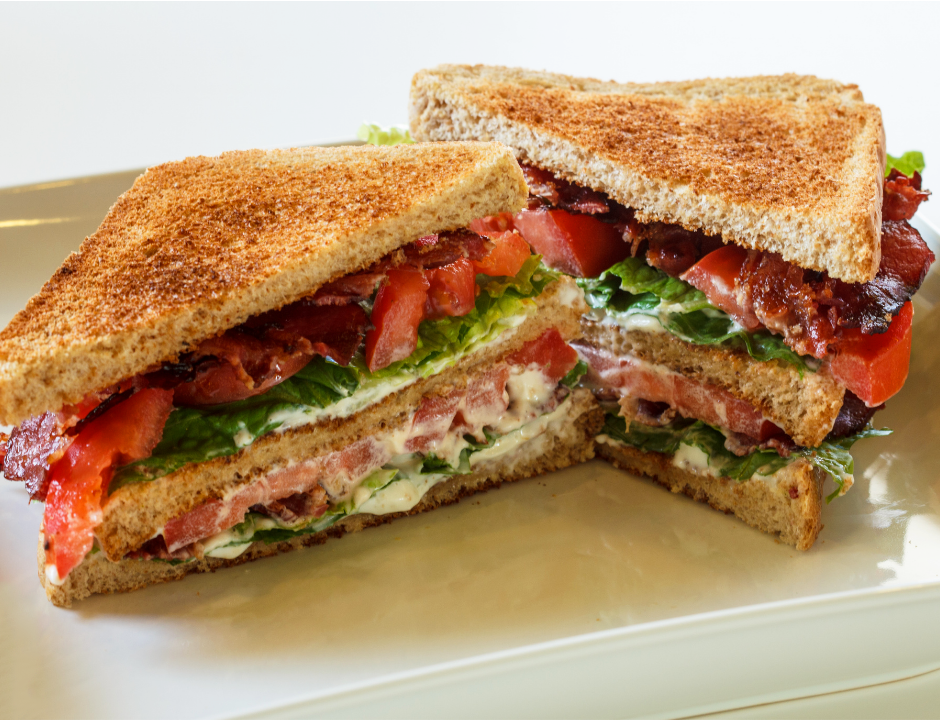 You can get BLTs from almost all restaurants with a lunch menu, but IHOPs are simply cooked differently. Containing six strips of bacon, lettuce, and tomatoes, the item sells for $7.79 and is one of the cheapest foods you can get from the restaurant.
Bacon 'N Beef Cheeseburger
If you gravitate towards cheeseburgers, IHOP's Bacon 'N Beef Cheeseburger should hit home for you. Containing onions, lettuce, and tomatoes, it's not a far cry from the double BLT, but it's more wholesome. The cheeseburger goes for around $7, depending on where you're eating.
IHOP Dinner Menu with Prices
IHOP is probably one of the best restaurants with different items for the lunch, breakfast, and dinner menus. While we've discussed the two previous menus at length, it's time for the one you are least likely to ever use.
Here are some items on the IHOP dinner menu with their prices.
Country Fried Steak and Eggs
While most of the items on the IHOP dinner menu are steaks, this is probably the best. It also comes with two custom-made eggs, as well as buttermilk pancakes, to showcase the brand. Everything goes for $17.99 and has a ton of calories. Probably not a good option if you're on a diet.
Sirloin Steak Tips and Eggs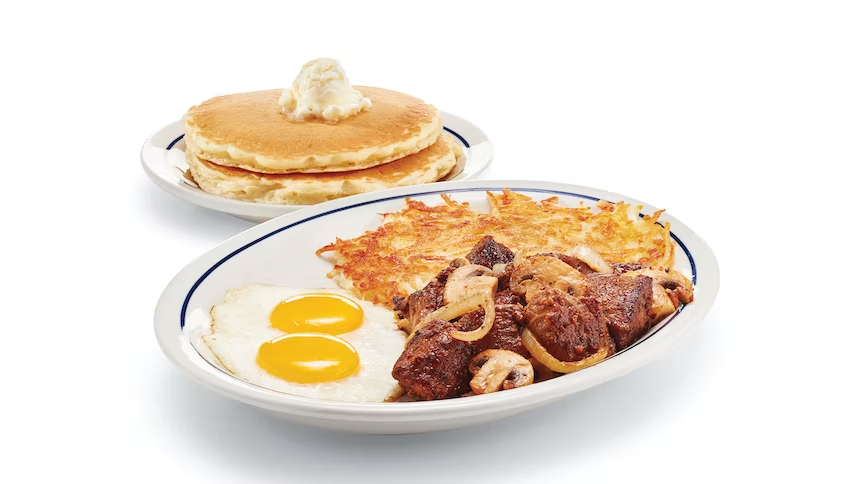 This item is the same as the preceding one, except that the country fried steak gets replaced with sirloin steak tips. Another difference between the two dishes is the price, with this being slightly more expensive at $18.69.
What is the cheapest meal at IHOP?
Like I said earlier, IHOP is a great restaurant where the rich and the poor can order. The restaurant has amazing meals on its menu and most of them are affordable.
Original Full Stack Buttermilk Pancakes. Cost: $5.99. …
Pancake Combo. Cost: $8.99. …
Strawberry'N Cream Pancake Combo. Cost: $8.99. …
Tuxedo Pancake Combo. PIN IT. …
Crepe Combo. Cost: $8.99. …
Breakfast Sampler. Cost: $9.39. …
Split Decision Breakfast. …
Simple & Fit 2-Egg Breakfast.
How many pancakes are in a full stack at IHOP?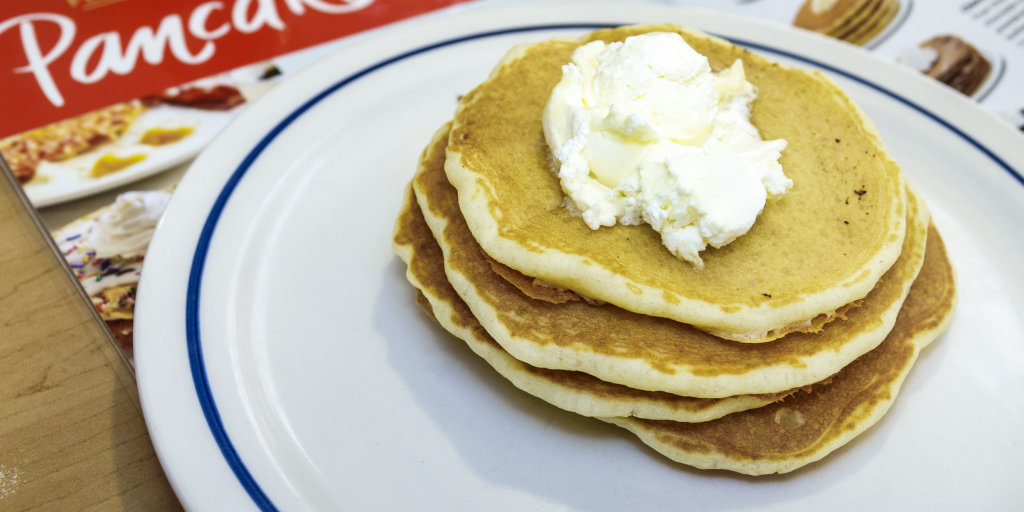 IHOP is well known for its tasty pancakes. Full stack at IHOP contains five pancakes.
How much is 1 pancake at IHOP?
With their name, you should know that IHOP is the best in making pancakes. You would like to know how much is pancake at the restaurant before you can place an order.
| Food | Price |
| --- | --- |
| Original Buttermilk Pancakes | $5.69 |
| Harvest Grain 'N Nut Pancakes | $6.99 |
| Corn Cake Pancakes | $6.49 |
| Chocolate Chip Pancakes | $6.79 |
READ MORE: IHOP Breakfast Hours

READ MORE: IHOP Southwest Chicken Burrito: A must read
Conclusion
IHOP mightn't be the cheapest or healthiest place to eat, but you can get some awesome pancakes from there. Besides that, there are many other options spread across the breakfast, lunch, and dinner menus.
If you'd like to keep your calorie intake as low as possible, consider getting breakfast bowls instead of breakfast burritos. The tortilla adds a lot more calories to the dish without adding or subtracting the actual price.
FAQS
Are the prices on the IHOP menu the same at all locations?
No, prices may vary by location because of factors such as local taxes and cost of living. However, IHOP strives to keep its menu prices as consistent as possible across all locations.
What types of breakfast items are on the IHOP menu?
IHOP is known for its extensive selection of breakfast items, including pancakes, waffles, French toast, omelettes, eggs, bacon, sausage, and more. They also offer breakfast combos and platters for those who want a little bit of everything.
Does IHOP offer any non-breakfast items on its menu?
Yes, IHOP offers a variety of non-breakfast items, including burgers, sandwiches, salads, soups, and appetizers. They also have a selection of desserts and beverages.