Krystal is renowned for being one of the best burger outlets in the United States, thanks to its focus on quality over quantity. The restaurant's offerings aren't cheap, but neither are they as mediocre as that of most other fast-food outlets in the United States.
When you need to get an item from the restaurant, you'll want to know what to get before walking into the restaurant. Reserving your order before getting to the restaurant eliminates wait time and ensures your order is hot and ready before you step your foot into the restaurant.
With that said, this article will take you through some of the best menu items on the Krystal menu and how much they cost. Since they have different menus for different times of the day, I'll segregate the post into options for the breakfast and the lunch menus.
Krystal Breakfast Menu with Prices
Few American restaurants take the time to come up with a separate breakfast menu. However, since they established Krystal on the idea of both breakfast and lunch, there are several breakfast items you can get from the restaurant.
Krystal has one of the most inviting breakfast hours in the United States, beat only by chains that open for 24 hours. The restaurant serves items from its breakfast menu by 5 am, only to stop by 11 am. With so many hours for breakfast, there's virtually no excuse for missing the early morning meal at the restaurant.
Here are some of the best breakfast items at Krystal with their corresponding prices.
Original Scrambler Breakfast Bowl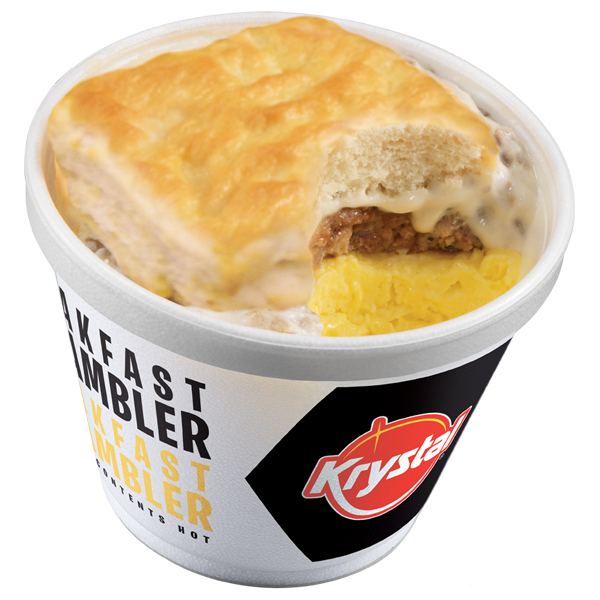 The Original Scrambler Breakfast Bowl is one of the many breakfast bowls that the restaurant provides, but fans especially love this. They stacked the bowl full of many ingredients like homemade grits, melted American cheese, bacon, or savory sausage, as well as scrambled eggs, all for a tiny $5.29.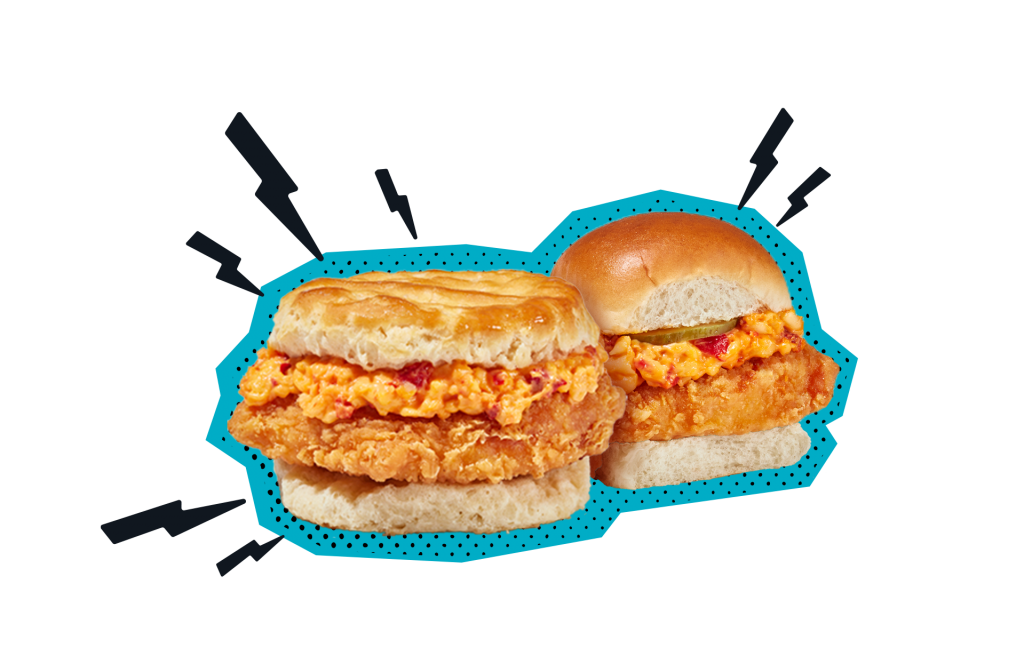 Imagine having fried crispy chicken breast filet between two crunchy Krystal freshly baked biscuits. That's exactly what the restaurant went for in the Chik Biscuit menu item, and the truth is told, they nailed it perfectly. For just $2.99, this menu item offering just 380 calories is the best deal for breakfast.
Bacon, Egg, and Cheese Biscuit
Krystal isn't the first restaurant to try this combination on their breakfast menu, but they nailed it, at least for me. What's better food for breakfast than a biscuit with bacon, freshly cracked eggs, and cheese? For just $2.99, this menu item is a steal, especially when you're getting it at Krystal.
This fan-favorite menu item at Krystal includes three fresh cracked eggs complete with flaky biscuits and your choice between grits or tots. It also comes with a sausage patty and strips of bacon, explaining why it's one of the fan-favorite items on the Krystal breakfast menu. The entire plate costs $4.99, which doesn't sound outrageous for what you're getting.
What's better for a breakfast meal than sausages that have been fried until they turn golden brown while hiding delicious spicy white gravy within them? It's an interesting option if you're looking to eat on the go and the price determines the specific restaurant at which you're dining and how many you grabbed.
Breakfast Menu
Original Scrambler – Combo
$4.49
Low Carb Scrambler – Combo
$3.99
Sausage Gravy Scrambler – Combo
$4.69
3 Egg Breakfast – Plate
$4.99
Sausage Gravy Biscuit – Plate
$3.49
2 Sunrisers – Combo
$3.99
Breakfast Toast Sandwich – Combo
$3.99
Breakfast Biscuit – Combo
$3.99
Chik Biscuit – Combo
$3.99
Krystal Lunch Menu with Prices
Looking at the description of the Krystal restaurant, you'll notice that it's more of a lunch than a breakfast location. The breakfast meals were almost all added as an afterthought, even if that didn't show too well in the food's quality.
As expected, you can only get the distinct Krystal excellence by looking at options from the lunch menu. To make that easier for you, I've compiled some of the best lunch items from the menu to help you make the best out of your visit to the restaurant.
Here are some of the best items on the Krystal lunch menu with their prices.
Instead of listing every single burger on the Krystal website (which is a massive list), I've replaced it with the word for the entire category. Every item on this menu differs ever so slightly, but they all keep the distinct taste of a Krystal fast food item.
The patties range from beef to bacon, and almost everything has cheese across the board. Weirdly, my favorite item from the Krystal part of the menu is the only one without Krystal in the name: Chik, thanks to its chicken patty. Other options in this list include the original, double, bacon cheese, and cheese Krystals.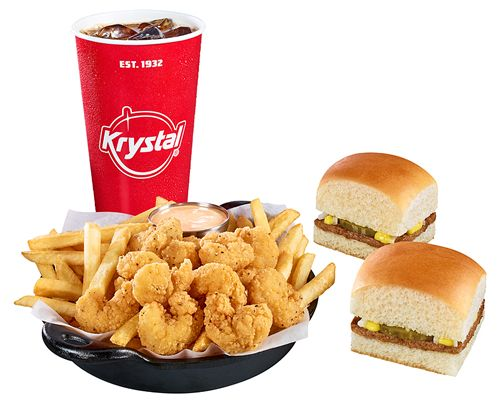 The combo meals at Krystal are all excellent, with every single one offering the distinct taste of an item from the restaurant. You can go for the 6 spicy wings that come with fries and a beverage or the 6 piece chik 'n strips combo that's chicken with a selection of chips and soda.
There are many other combo meals that you can simply order without having to worry separately about the soda, fries, and main. The restaurant claims the 4 Krystals Combo is a fan favorite, even if it's one of the most expensive on the list.
The 4 Krystals Combo is simply a meal of 4 different original Krystal sandwiches with diced onions and mustard with pickles. You get that with your choice between tots and fries with a medium drink to match. This amazing combination comes at $5.69, which is a steal for what you get.
Krystal Combos
4 Original Krystals – Combo
$5.69
3 Double Krystals – Combo
$6.29
3 Triple Krystals – Combo
$6.99
5 Cheese Krystals – Combo
$7.39
3 Bacon & Cheese Krystals – Combo
$6.29
3 Loaded Krystals – Combo
$6.29
Value Packs Combo
12 Krystal Sackful – Combo
$13.49
Krystal Burger – Only
12 Pc.
$8.99
Cheese Krystal Burger – Only
12 Pc.
$10.99
Krystal Burger – Only
24 Pc.
$16.99
Cheese Krystal Burger – Only
24 Pc.
$19.99
Krystal Burger – Only
48 Pc.
$31.99
Wings
12 Pc.
$8.99
Wings
24 Pc.
$16.99
Wings
READ MORE: Krystal Breakfast Hours
Conclusion
The food at Krystal isn't crazy cheap, and it wasn't even intended to be so. However, one of going into the restaurant is the fact that you'll certainly get a befitting lunch of burgers and beverages without running into debt.
This article outlines some of the best items on the Krystal menu and how much they cost. You can also refer to the official Krystal website to get the comprehensive menu but without the prices.
What is the price range for Krystal menu items?
Prices at Krystal are generally quite affordable, with most menu items falling between $1 and $5.
What are the most popular items on the Krystal menu?
The most popular item on the Krystal menu is their signature Krystal burger. Other popular items include their chicken sandwiches, hot dogs, and breakfast items like biscuits and gravy.
Are there any vegetarian or vegan options on the Krystal menu?
Unfortunately, there are not many options for vegetarians or vegans on the Krystal menu. However, they do offer a veggie burger made with a vegetable patty.
Can I order Krystal menu items online?
Yes, you can order Krystal menu items online through their website or mobile app.