Have you heard about Mastro's butter cake lately, and you are wondering how you could make yours from home? 
Then stop scrolling and read this guide on Mastro's warm butter cake recipe.
Mastro's butter cake is a traditional cake that is soft, sweet, and buttery that doesn't require additional or special ingredients.
It is one of the most classic and beloved cakes in the bakery world, even though it may be unpopular.
Mastro's warm butter cake's beauty is that it stays moist for days at room temperature.It is also known as Kentucky butter cake and is loved by adults and kids. 
The warm butter cake is crunchy on the outside from turbinado sugar, yet moist and almost gooey in the center.
The textures and flavors are also unbeatable.
So, how do you make your homemade warm butter cake? Let's talk about that.
In this guide, you will learn how to make your Castro's butter cake and expert tips. Also, the nutritional facts and health benefits of this cake will be shared. 
What is Mastro's Butter Cake?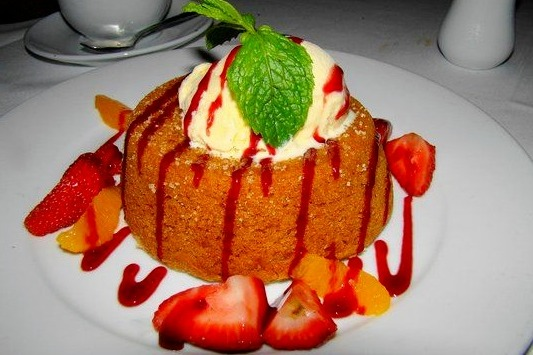 Mastro's is a famous restaurant and one of the top 10 steakhouses in the U.S.
This restaurant is a collection of sophisticated, classic steakhouses and sumptuous fish houses.
Mastro's Butter Cake is a creamy, delicious warm sandwich cake that is great for breakfast, brunch, or dessert. 
Mastro's Warm Butter Cake is one of the most popular desserts and is delicious!
It is also an easy, 1-bowl recipe with a wonderfully light and fluffy texture which can be made in just 30 minutes!
As much as it is very easy to make, it can be easily found at most grocery stores and specialty bakeries.
How to Make Mastro's Warm Butter Cake
Here we will analyze the equipment, ingredients, and step-by-step method of preparation.
Equipment Needed
Mixing bowl
Bundt pan
Stand or electric mixer
Cooling rack
Saucepan
Ingredients Needed
For this warm butter cake, you need to get the ingredients for the cake and the glaze.
Ingredients for the cake
3 cups of all-purpose flour
1 teaspoon of salt
½ teaspoon of baking soda
¾ teaspoon of baking powder
2 cups of granulated sugar
1 cup of unsalted Butter softened
4 eggs
1 cup of whole milk
Ingredients for the Glaze
5 tablespoons of unsalted Butter
¾ cup of granulated sugar
1½ teaspoon of vanilla extract
¼ cup of water
Instruction on How to Make Mastro's butter cake
Step 1: Prepare the Bundt pan
Preheat your oven to 325°F.
Brush your Bundt pan with melted Butter and then flour it up.
Step 2: Mix all the dry ingredients in a bowl.
Add the 3 cups of all-purpose flour, 1 teaspoon of salt, ½ teaspoon of baking soda, and ¾ teaspoon of baking powder in a large bowl.
Whisk them together.
Step 3: Beat butter and sugar
Beat Butter and sugar at medium speed. In a stand mixer,
Beat them for about 3 to 4 minutes or until the Butter becomes fluffy.
Scrape the side of the bowl occasionally when beating.
Step 4: Add egg and flower
Reduce the speed of the mixer and add all eggs, and beat well.
Gradually add flour mixer, milk, and granulated sugar.
Ensure to Beat well after each addition.
Step 5: Bake the Cake
Pour the cake batter into the prepared pan after thoroughly mixing.
Place the Bundt pan inside the oven and bake the Cake for about 1 hour or until done.
Step 6: Make the Glaze
Combine the butter with water and sugar:
In a small saucepan and add 5 tablespoons of unsalted butter, ¾ cup of granulated sugar, and ¼ cup of water.
Step 7: Cook the Butter mix
Turn on the stove, and bring the glaze mixture to a simmer over medium heat.
Stir constantly until the butter mix becomes thickened.
Cook for at least 2 minutes.
Step 8: Add vanilla extract
Turn off the stove after two minutes of cooking
Remove the saucepan from the heat.
For flavor, add 1 ½ teaspoons of vanilla extract with the butter mix, and stir them well.
Step 9: Pour the butter mix over the Cake
At this stage, pour the butter mix inside the pan, and allow the Cake to cool down at room temperature.
Invert the Cake on the wire rack after 15 minutes
Let it cool down completely before serving.
Step 10: Serve the Cake
Cut your Cake into medium or small pieces or desired sizes
Serve your cake with a fork on a serving plate. 
Cooking Information
Prep Time: 20 minutes
Cooking time: 1 hour
Total time: 1 hour 20 minutes
Nutrition Information
Calories: 506 kcal
Fiber: 1
Fat: 23g
Saturated Fat: 14g
Polyunsaturated Fat: 1g
Monounsaturated Fat: 6g
Trans Fat: 1g
Potassium: 91mg
Iron: 2mg
Protein: 6g
Smgodmgium: 302mg
Calcium: 58mg
Sugar: 47g
Carbohydrates: 71g
Cholesterol: 117mg
Expert Tips
Use a long serrated knife to slice the Cake into pieces to avoid tearing and squishing this delicious butter cake.
Bring the eggs to room temperature so that the eggs can incorporate into the cake batter without overbeating.
Avoid using cold eggs even. If you forget to bring your eggs out of the refrigerator, place the eggs inside the bowl with warm water.
Use a measuring cup or kitchen scale to measure the flour at a perfect amount because too much flour may make your Cake dense.
Do not open the oven to check the Cake as hot air may release from the oven and cause your butter cake to cook unevenly.
Health Benefits of Mastro's Butter Cake
All ingredients used for this warm butter cake are good sources of carbohydrates.
Carbohydrate is essential for the body to deliver energy to our brain, body, and muscles.
Conclusion
Mastro's Butter Cake Recipe is one of those butter cake recipes that only require some simple ingredients to make.
It is a creamy, delicious warm sandwich cake that is great for breakfast, brunch, or dessert.
Mastro's Warm Butter Cake is one of the most popular desserts that are easy to make with a 1-bowl recipe and comes out wonderfully light and fluffy texture which can be made in just 30 minutes!
The Cake is impressive on its own, and your mouth will start watering after one bite of this Cake.
We hope you have fun trying this recipe.
Frequently Asked Questions
What Butter is best for butter cakes? 
Unsalted Butter is best for baking cakes as it helps to control how much salt should go into your baked cakes. 
It also adds a fresh, light, and smooth flavor to your Cake.   
However, with salted butter, you need to adjust the salt in your cake recipe. 
Can I refrigerate Butter Cake? 
Butter cake can only be stored at room temperature for up to 3 days.
However, be sure to store it in an airtight container or use aluminum foil or plastic wrap to help keep it from drying out.
What is the best way to preserve a butter cake?
Butter cakes are best stored in airtight containers in a cool, dry place. You can also use an overturned bowl.
However, to keep cakes fresh for more than 1 week, try freezing them 
How do you know when Butter Cake is done?
Insert a skewer into the center of the cake to determine if it is done. 
If it comes out wet, it means you need to cook the cake a little longer.
What makes butter cake soggy?
Too much butter or many eggs can make your cake super moist. 
What makes butter cake not moist?
A dry cake could occur when you use the wrong ingredients, make mistakes while mixing the batter, or bake the cake too long or at too high a temperature. 
Can I reheat the butter cake?
Yes, you can. You can reheat the butter cake by placing it on a foil-lined baking sheet. Put it in a cold oven and set the oven to 250 F. 
Then heat the cake just until it is warm, for about 10 to 15 minutes