The subgum wonton soup recipe is something you must try if you enjoy Chinese cuisine. This dish is light and energizing while also being full and hearty.
Ginger, garlic, and scallions are used to flavor the soup, served with dumplings packed with a mixture of pork, shrimp, and vegetables.
For any time of the day, it is the ideal meal. For a complete dinner, serve with a side of rice. In this guide, we will give you a fantastic recipe for subgum wonton soup. 
Getting your recommended daily allowance of vegetables is simple and tasty with this subgum wonton soup.
Even the pickiest eaters will enjoy this soup. And because of its slightly sweet and salty flavor, it's ideal for a winter feast.
So go ahead and curl up with a bowl of delicious soup; your taste buds will appreciate it!
What is a Subgum Wonton Soup?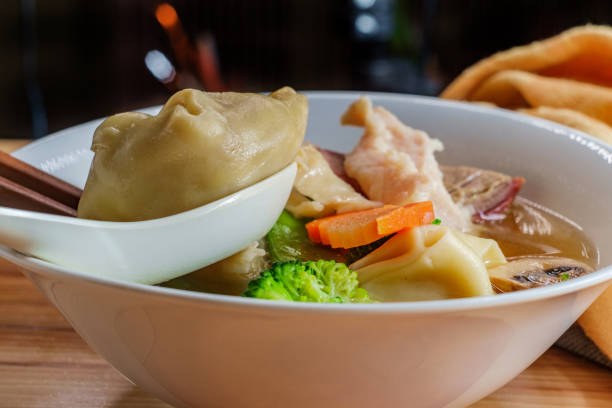 Chinese wontons and other ingredients are deep-fried in oil to create the delectable Subgum Wonton Soup.
The wontons are then served in a chicken stock soup, occasionally with other ingredients like mushrooms, tofu, or spinach.
Making this soup at home is simple since you can use frozen wontons that are simple to thaw in the microwave.
You can also use fresh wontons, but since they must first be soaked before frying, they will take longer to prepare than frozen ones.
How to Make Subgum Wonton Soup Recipe
One tasty and simple way to enjoy a Chinese staple is to make subgum wonton soup. The soup is easy to prepare and may be readily customized to your preferences.
This dish is easily adaptable to your preferences, whether you prefer your soup with more or fewer vegetables, spices, or protein. Moreover, it's a fantastic way to utilize any leftover wonton wrappers!
So, let's talk about how to make this recipe in this section.
Ingredients Needed for Subgum Wonton Soup
2 lb ground pork
1 cup of chopped onion
½ cup of chopped celery
½ cup of chopped carrot
2 teaspoons of salt
1 teaspoon of pepper
1 teaspoon of garlic powder
4 cans of chicken broth (14 oz)
2 cans of beef broth (10 oz)
2 cans tomato sauce (8 oz)
½ cup of soy sauce
1 cup of dry sherry
1 tsp of sugar
1 lb of chopped and thawed frozen spinach
48 wonton wrappers
Step-By-Step Instructions for Making Subgum Wonton Soup
Combine the ground pork with the onion, celery, carrot, salt, and garlic powder in a big pot.
Brow the pork in a skillet over medium heat.
Add the sugar, tomato sauce, soy sauce, and sherry, as well as the meat, chicken, and beef broth at this point.
Everything is brought to a boil.
Add the wrappers and spinach.
Cook the wonton wrappers for about three minutes or until they are fully cooked.
Expert Tips
If you're in a rush and want to make the soup with less work, use an instant pot!
Use homemade wonton wrappers instead of store-bought ones. They're much more flavorful and don't cost a dime!
Add some chicken broth to the water if you don't have enough at first so that the noodles are not too dry and hard when finished cooking.
Ensure your wontons are small enough before adding them to the soup; this will help prevent soggy wontons!
Nutrition Information Per Serving
Calories: 300
Fat: 12g
Sodium: 522mg
Carbohydrates: 39g
Fiber: 7g
Health Benefit of Subgum Wonton Soup
The crispiness of wonton shells and the juicy, savory contents are both present in the classic Cantonese meal known as "Subgum Wonton Soup."
Although the soup is frequently served with basic rice noodles, you may add other vegetables, like carrots or beans, if you wish to make it heartier.
The immune system and general health are boosted by the abundance of vitamins A and C in this soup.
Moreover, it has a lot of fiber, which promotes a smooth digestive process.
Everyone who appreciates Chinese food, from children to adults, can enjoy Subgum Wonton Soup since it is one of those foods that will make you want home when you eat it.
How to Maintain Subgum Wonton Soup
You must keep your Subgum Wonton Soup in an airtight container to store it. You can use a freezer-safe container or a plastic bag.
The use of metal containers should be avoided as this could make the soup overly heated and damage the flavor.
Differences Between Normal And Subgum Wonton Soup
Subgum is a meal of Chinese origin that is made with a variety of vegetables, according to Merriam-Webster.
Subgum Wonton is comparable to the house chow mein, special chow mein, or house special chow mein, despite the fact that you can't find it in an authentic Chinese restaurant.
While having Chinese roots, this meal has Americanized variations thanks to its popularity.
Even though this dish is still referred to as a Chinese dish, Chinese people who are proud of their culture and cuisine will question its validity.
Conclusion
Subgum wontons soup is North American-made Chinese cuisine that contains a selection of proteins and vegetables.
Although it might not be offered in real Chinese restaurants, the majority of diners prefer this main meal.
Nonetheless, the traditional wonton soup recipe is both authentic and quite healthful. The light flavor and speed of preparation appeal to people, as you can cook this recipe in 10 minutes.
Additionally, this recipe can help boost the immune system and general health through the abundance of vitamins A and C in this soup. Moreover, it has a lot of fiber, which promotes a smooth digestive process.
You can keep your Subgum Wonton Soup in an airtight container to store it. You can use a freezer-safe container or a plastic bag.
Do not use metal containers, as this could make the soup overly heated and damage the flavor.
Did you try this recipe? Kindly share your thoughts with us in the comment box.
FAQS
What does the Chinese word "Subgum" mean?
The Chinese phrase for "meat leftovers" is "subgum." It is a term used in Chinese cooking to describe any portion of meat that is still whole after being cut into thin strips.
Other meals like rice or rice noodles also use the name subgum. Moreover, it is occasionally used for preparing tofu and veggies.
What Is A Regular Wonton Soup Made Of?
The simplicity of its flavor makes regular wonton soup a favorite among diners worldwide. It is an authentic Chinese meal.
The following ingredients are included in regular wonton soup: chicken broth, deep-fried meat-filled wontons, and spring onions (As topping)
If you're still unaware, there is one more thing you should know about wontons: this meal is connected with various shapes.
Even though many people still prefer the dish's original shape because of its popularity, many creative modifications have been made to make it look and taste better.
Resuming, the flavor of the regular wonton soup is moderate and creamy. 
The soup is flavorful and full of protein, thanks to the chicken broth and your choice of meat filling. Because of this, using it as the primary option
because of this
How Healthy Is Wonton Soup?
A nutritious soup is wonton soup. It's beneficial for both sicknesses and diets.
The majority of individuals are restricted to soups during sickness since they are hydrating, have a moderate flavor, and provide you immediate energy. 
A bowl of wonton soup provides additional protein-rich power to all of that.
Also, it is a fantastic choice for those who are trying to lose weight. 
It is scrumptious and healthy, giving your diet a delicate balance because of the protein it contains, and it keeps you satisfied for the longest period.
From whence did wontons come?
North China is where wontons actually originated. They used to be called "huidun"which means chaos sealed packed buns. Later, the name was altered to "wonton" to fit the characters used for Chinese writing. 
The term "wonton" is now recognized on a global scale, and new flavors and variants are constantly being developed.
What distinguishes Subgum wonton soup from wonton soup?
Both wonton soup and Subgum wonton soup are created using rice noodles, wontons, and seasonings. 
Wonton soup is a well-liked meal in China and Taiwan, whereas Subgum wonton soup is well-liked in Singapore. 
Including shrimp, pork, or seafood in the wontons in Subgum wonton soup distinguishes these two recipes.