Are you looking for a healthy and delicious soup recipe that's perfect for any season? Look no further than chicken vegetable soup. This classic dish is not only satisfying and comforting, but it's also packed with essential nutrients that can help you feel your best.
If you're looking for a hearty meal to warm you up on a chilly day or a light and refreshing option for the warmer months, this chicken vegetable soup is sure to hit the spot.
In this article, we'll share an easy and flavorful recipe for this soup that you can make at home with just a few simple ingredients. So grab your apron and let's get cooking.
Chicken Vegetable Soup Recipe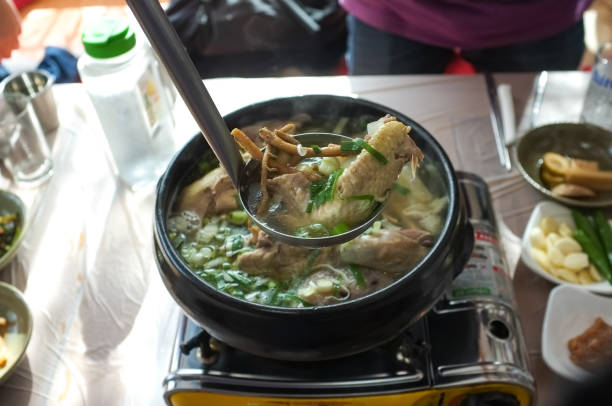 Here is a recipe for chicken vegetable soup:
Ingredients:
1 tablespoon olive oil
1 pound boneless, skinless chicken breasts, cut into 1-inch pieces
1 onion, chopped
2 carrots, chopped
2 celery stalks, chopped
1 (14.5 ounce) can diced tomatoes, undrained
1 (10.75 ounce) can condensed chicken broth
4 cups water
1 teaspoon dried thyme
1/2 teaspoon salt
1/4 teaspoon black pepper
1 cup cooked rice
1/2 cup frozen peas
Instructions:
Heat the olive oil in a large pot over medium heat. Add the chicken and cook until browned on all sides.
Add the onion, carrots, and celery to the pot and cook until softened, about 5 minutes.
Stir in the diced tomatoes, chicken broth, water, thyme, salt, and pepper. Bring to a boil, then reduce heat and simmer for 20 minutes, or until the chicken is cooked through.
Stir in the rice and peas and cook for an additional 5 minutes, or until heated through.
Serve hot.
Tips:
You can add or remove vegetables to this soup to your liking. Some other vegetables that would be good in this soup include potatoes, green beans, corn, and zucchini.
You can also use different types of chicken in this soup. Some other options include bone-in, skin-on chicken thighs or breasts, or rotisserie chicken.
If you don't have cooked rice, you can use uncooked rice and cook it in the soup for the last 10 minutes of cooking time.
This soup can be made ahead of time and stored in the refrigerator for up to 3 days. To reheat, simply bring the soup to a boil on the stovetop or in the microwave.
What Gives Chicken Soup The Most Flavor?
There are a few things that give chicken soup the most flavor. The first is the quality of the ingredients. Using fresh, high-quality chicken and vegetables will make a big difference in the taste of the soup. The second is the cooking time. Chicken soup should be simmered for a long time, so that the flavors have time to develop. Finally, don't forget the seasoning! A little salt, pepper, and herbs can really enhance the flavor of the soup.
Nutritional Facts
Here are the nutritional facts for a serving of chicken vegetable soup:
Calories: 134
Fat: 5g
Saturated Fat: 1g
Cholesterol: 15mg
Sodium: 1168mg
Carbohydrates: 24g
Fiber: 4g
Sugar: 5g
Protein: 10g
Chicken vegetable soup is a healthy and nutritious meal. It is a good source of protein, vegetables, and whole grains. The soup is also low in calories and fat.
Cooking Time
Simmer the chicken vegetable soup for 30-40 minutes or until the chicken is cooked through and the vegetables are tender.
Is Chicken Vegetable Soup Recipe Healthy?
Yes, chicken vegetable soup is a healthy recipe. It is a good source of protein, vegetables, and whole grains. The soup is also low in calories and fat.
Health Benefits Of Chicken Vegetable Soup
Some of the health benefits of chicken vegetable soup include:
Boosting the immune system. Chicken vegetable soup contains a number of nutrients that are important for a healthy immune system, including vitamin A, vitamin C, and zinc. These nutrients help to protect the body from infection and disease.
Reducing inflammation. Chicken vegetable soup contains anti-inflammatory compounds that can help to reduce inflammation throughout the body. Inflammation is a major factor in many chronic diseases, such as heart disease, cancer, and arthritis.
Soothing a sore throat. The warm broth of chicken vegetable soup can help to soothe a sore throat and make it easier to swallow. The soup can also help to loosen mucus and make it easier to cough up.
Promoting weight loss. Chicken vegetable soup is a low-calorie, high-fiber meal that can help you to lose weight or maintain a healthy weight. The soup is also a good source of protein, which can help you to feel full and satisfied after eating.
Conclusion
Chicken vegetable soup is a classic comfort food that is perfect for a cold day. This recipe is easy to follow and can be customized to your liking. Use your favorite vegetables and add more or less chicken to suit your taste. This soup is also a great way to use up leftover chicken.
Once you have made this soup once, you will be hooked. It is so flavorful and satisfying. Serve it with a side of crusty bread or crackers and enjoy.