Breakfast is undoubtedly the most important meal of the day, and what better way to kickstart your morning than with a stack of mouthwatering pancakes? While traditional pancakes never fail to satisfy, it's always exciting to explore new flavors and textures that take this classic breakfast treat to the next level.
In today's blog post, we invite you to indulge in the tangy and aromatic world of Lemon Poppy Seed Pancakes. With their zesty citrus notes and delightful crunch, these pancakes are a delightful twist on a beloved favorite. So grab your apron, gather your ingredients, and get ready to embark on a pancake adventure that will leave your taste buds singing.
What are Lemon Poppy Seed Pancakes?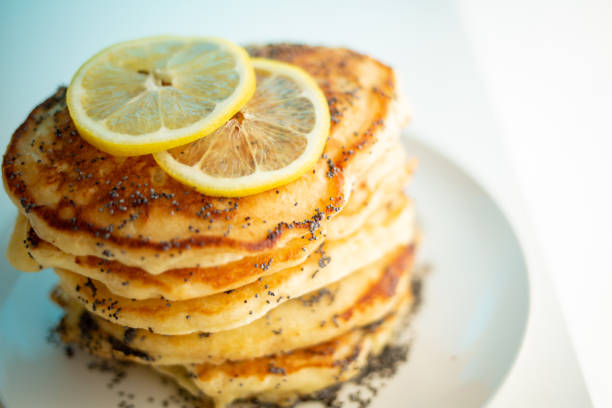 Lemon poppy seed pancakes are a light and fluffy breakfast treat made with lemon zest, poppy seeds, and buttermilk. They are typically served with butter and maple syrup, but can also be topped with fresh fruit, whipped cream, or yogurt.
Lemon Poppy Seed Pancakes
These fluffy and delicious lemon poppy seed pancakes are the perfect way to start your day. The lemon zest adds a bright and tart flavor, while the poppy seeds add a nutty crunch. Serve them with your favorite toppings, such as maple syrup, fresh fruit, or whipped cream.
Ingredients:
2 cups all-purpose flour
2 teaspoons baking powder
1 teaspoon baking soda
1/2 teaspoon salt
1/4 cup sugar
1/3 cup poppy seeds
2 tablespoons lemon zest
2 cups buttermilk
2 large eggs
2 tablespoons vegetable oil
Instructions:
In a large bowl, whisk together the flour, baking powder, baking soda, salt, sugar, and poppy seeds.
In a separate bowl, whisk together the lemon zest, buttermilk, eggs, and vegetable oil.
Add the wet ingredients to the dry ingredients and whisk until just combined. Do not overmix.
Heat a large non-stick skillet or griddle over medium heat. Grease the pan with butter or cooking spray.
Pour 1/4 cup of batter onto the hot pan for each pancake. Cook for 2-3 minutes per side, or until golden brown.
Serve immediately with your favorite toppings.
Tips:
For extra fluffy pancakes, let the batter rest for 5-10 minutes before cooking.
To make a lemon glaze, whisk together 1/3 cup powdered sugar and 2 tablespoons lemon juice. Drizzle the glaze over the pancakes before serving.
Serve with fresh fruit, such as blueberries, raspberries, or strawberries.
For a healthier option, use whole wheat flour and low-fat buttermilk.
Nutritional Facts
1 serving (2 pancakes)
Calories: 290
Fat: 12g
Saturated Fat: 2g
Cholesterol: 55mg
Sodium: 300mg
Carbohydrates: 35g
Fiber: 2g
Sugar: 10g
Protein: 10g
Nutrients of note:
Lemon poppy seed pancakes are a good source of protein and fiber.
They also contain some important vitamins and minerals, such as vitamin C, potassium, and magnesium.
However, they are also high in calories and fat.
Is Lemon Poppy Seed Pancakes Healthy?
Yes, lemon poppy seed pancakes is a healthy breakfast option, but it depends on the ingredients you use and how you cook them.
Health Benefits for Lemon Poppy Seed Pancakes
Lemon poppy seed pancakes are a delicious and healthy breakfast option. They are made with whole wheat flour, which is a good source of fiber, and Greek yogurt, which is a good source of protein. They are also low in calories and fat.
Here are some of the health benefits of lemon poppy seed pancakes:
Whole wheat flour: Whole wheat flour is a good source of fiber, which can help to regulate digestion, lower cholesterol levels, and control blood sugar levels.
Greek yogurt: Greek yogurt is a good source of protein, which can help to keep you feeling full and satisfied after eating. It is also a good source of calcium, which is important for bone health.
Low in calories and fat: Lemon poppy seed pancakes are a low-calorie and low-fat breakfast option, which can help you to maintain a healthy weight.
Conclusion
These lemon poppy seed pancakes are light and fluffy, with a subtle lemon flavor and a hint of sweetness from the poppy seeds. They are perfect for a weekend brunch or a special occasion.
So, why not take your pancake game to the next level and enjoy a stack of these mouthwatering pancakes that will leave you craving for more?
FAQS
Can I freeze Lemon Poppy Seed Pancakes?
Yes, you can freeze Lemon Poppy Seed Pancakes. After cooking, let them cool completely, then stack them with parchment paper in between each pancake. Place them in an airtight container or freezer bag and store in the freezer for up to three months. To reheat, simply toast them in a toaster or warm them in the oven.
How can I make my Lemon Poppy Seed Pancakes fluffy?
To achieve fluffy pancakes, make sure not to overmix the batter. Overmixing can lead to a dense texture. Additionally, allowing the batter to rest for a few minutes before cooking will help the gluten relax, resulting in lighter and fluffier pancakes.