This Miso salmon cheesecake factory recipe has a sweet and savory flavor, which turns out perfectly juicy and flakey every time you make it.
It's simple and easy to make at home, and it tastes like something you'd get at a fancy continental restaurant.
However, there are many traditional techniques for preparing it, but this one is a bit unique.
The ingredients also have a pleasant appearance and aroma, which help create an appetizing environment in your kitchen that satisfies your cravings.
So, here is everything that you need to know about this recipe and how you can easily make miso salmon cheesecake factory at home.
What is Miso Salmon?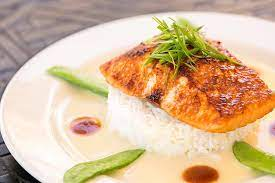 Miso is made from fermented soybeans and koji, a rice-grown fungus.
It is typically used in soup and can also be used as a glaze or marinade.
It also has diverse flavors that are hard to describe.
Miso salmon is a mixture of red and lighter versions because it's a delightful balance between the gentler flavor of beige miso and the more robust flavor of red miso.
So, let's dive into how to make homemade miso salmon cheesecake factory.
How to Make Miso Salmon Cheesecake Factory
In this section, we will discuss the ingredients and instructions on how to prepare this recipe.
Equipment
Measuring spoons and cups.
Medium-sized mixing bowl.
Ingredients Needed
The following is a list of all of the ingredients that you will need to prepare this mouthwatering meal:
2 tablespoons of Brown sugar
2 tablespoons of Mixed Miso paste
2 tablespoons of Soy sauce
1 teaspoon of White rice vinegar, one teaspoon
2 to 4 oz of skinned and defined Salmon filets (fresh)
1 cup of Fresh snow peas
½ 2up of dry sake,
1 minced Shallot
1 stick of softened Butter
Heavy cream
Ginger paste
Garlic paste
2 cups of Cooked white rice
Chopped chives as a garnish
Olive oil
Ingredients Substitutions
Cooking oil: Although olive oil is the best cooking oil and the most commonly used oil for this miso salmon cheesecake factory recipe, you can use any cooking oil, including coconut oil, if you mind the saturated fat content.
White rice vinegar: This ingredient is Made from fermented rice with a mild flavor guaranteed not to overpower your dishes, so it is a must to use white rice vinegar.
However, Apple cider vinegar is a safe choice, with a mild flavor that resembles white rice vinegar, not overpowering your salmon.
Soy sauce has a savory, salty, and umami taste, which it brings to many different recipes.
You can replace soy sauce in your miso salmon with Worcestershire sauce.
It is a fermented combination of lots of vinegar, garlic, onion, and many other spices; this British sauce has the same savory taste but without salt, soy, and gluten.
Instructions on how to prepare
This cooking procedure will be discussed in steps as follows
Step 1: Mixing of Pastes and Sauces
In a large bowl, put in Miso paste, rice vinegar, brown sugar, and soy sauce. Ensure that the bowl is big enough to prevent spilling.
Mix them well to create a marinade and glaze creamy mixture.
You can add a splash of warm water if the consistency gets too thick.
Step 2: Refrigerate Salmon Filets
Marinate the salmon filets with pastes and sauces. Then wrap the salmon filets in a plastic wrapping bag.
Keep them in the refrigerator to cool down for at least 40 minutes to help make the flavor diffuse into the pores.
Blanch 1 cup of snow peas in a pot of boiling salted water for around 10 minutes.
Then place in an ice bath to dry thoroughly
Roast for 3 minutes at a low temperature in 1 tablespoon olive oil and put aside to cool.
Step 4: Grilled the Salmon
Turn on the oven to 375 degrees Fahrenheit or 190 degrees Celsius.
Wrap the baking plate with olive oil-drizzled aluminum foil.
Step 5: Roasting and Baking
In a roasting pan, put your Marinated salmon filets in the oven, and let them bake for 15 to 16 minutes to turn the soft texture into flaky brown bites.
Melt 1 tablespoon of butter In a saucepan.
Mix in the ginger and garlic paste.
Let the mixture cook for five minutes before incorporating the sake.
Bring the mixture up to a boil and then allow it to boil for approximately five minutes.
Bring the saucepan down and turn off the heat.
Add the heavy cream, and bring the mixture that, which includes the butter, back to a boil.
Allow the quantity to decrease by two-thirds.
Then mix it to the consistency of a thick, pliable paste.
The miso salmon cheesecake factory goes exceptionally well with garlic rice or any of the other rice combinations that feature vegetables.
Start with the rice when serving and make the miso salmon be placed on top of the rice, and the sake butter should be smeared on top of that.
You can also serve it with green beans or sugar snap peas you've already prepared.
Then Sprinkle toasted sesame seeds on top.
Cooking Information
Prep Time: 10 mins
Cook Time: 35 mins
Servings: 4 people
Calories: 930 kcal
Expert Tips
If you think your glaze is too thick, you can always add a glass of water to fix the consistency. You can seek Miso paste in an Asian market if you cannot find miso paste in the grocery store.
Use a meat thermometer to keep an eye on the internal temperature of your salmon, which should be around 145 degrees.
Type of Salmon Best for the Miso Salmon Cheesecake Factory Recipe?
Fresh salmon filets are best for your recipe as it makes it more juicy and tender. However, there are options for different seawater salmons, which depend on your way of cooking.
You may also need to pick soft textured salmon, so it melts in your mouth.
Storage And Reheating Information
You can store any leftover miso salmon cheesecake factory in an airtight container for up to two days. You can then reheat it using a microwave or in a 350-degree oven.
Conclusion
Miso salmon is a mixture of red and lighter versions because it's a delightful balance between the gentler flavor of beige miso and the stronger flavor of red miso.
It is one of the unique and delicious things on the Cheesecake Factory menu.
The salmon takes on a tasty flavor, and with this recipe, you can create this sumptuous restaurant meal in the comfort of your own home!
It is a perfect dinner for date night or ants to impress your family; this dish is perfect.
To make this meal, we have analyzed in steps how to make it at home, including the equipment and ingredients needed.
However, it can be challenging to track down recipes that are comparable to those served in restaurants.
But if you follow this recipe, you will be able to recreate the same delicious sensations you had at the restaurant in the comfort of your home.
We hope that you have fun trying this recipe.
FAQS
What is in Miso Salmon?
Miso salmon is made of a mix of ingredients that gives it a delicious and unique flavor. 
The key ingredients in this recipe are miso paste, brown sugar, soy sauce, and white rice vinegar. 
Then, a sake butter that gets drizzled on top after the salmon is cooked helps to enhance the flavor.
Can I use Miso Glaze on other types of fish except for Salmon? 
Yes, you can use miso glaze sauce on other types of fish. 
However, it goes really well on mahi mahi filets, and you can make this air fryer mahi mahi recipe.
You can also put the glaze on some vegetables and roast them in the oven. 
All you have to do is to mix together the miso glaze marinade ingredients in a bowl, then toss the vegetables in it and roast in the oven!
How do I know if the Salmon is cooked? 
The salmon will separate from the natural white lines that run across it when it is cooked. 
You can use internal temperature as an indicator that it is cooked.
The internal temperature should be 145 degrees Fahrenheit (63°C). 
Is the miso salmon at Cheesecake Factory good?
The salmon, rice, and sauce are perfect, light, and wonderful. 
How many calories are in a miso salmon cheesecake factory?
There are about 1674 calories in 1 serving of the Miso Salmon Cheesecake Factory.
Is miso a fish?
Miso is a paste made from fermented soybeans, often mixed with other ingredients.
Does miso contain alcohol?
The amount of alcohol will vary depending on the exact conditions in which you make the miso. 
However, 1 to 2 % alcohol has been found in homemade miso. 
You must ensure the miso is heated to 70°C before eating, as this will ensure the alcohol evaporates If you are concerned about consuming alcohol.