Chicken burritos are a quick and easy meal that can be enjoyed for lunch, dinner, or even breakfast. They're perfect for busy weeknights when you don't have a lot of time to cook, but still want to enjoy a delicious and satisfying meal.
Chicken Burrito recipe is simple to follow and only requires a few ingredients that you're likely to have on hand. You'll need boneless, skinless chicken breasts, brown rice, black beans, corn, salsa, and your favorite toppings.
In this article, I will take you step-by-step through the process of making a delicious chicken burrito at home. So, let's get started.
What Is Chicken Burrito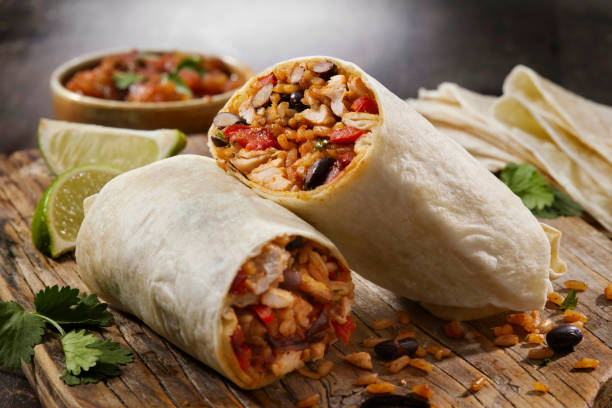 A chicken burrito is a Mexican-inspired dish consisting of a flour tortilla filled with cooked chicken, rice, beans, vegetables, and cheese. It is often served with salsa, sour cream, and guacamole. Chicken burritos are a popular choice for lunch or dinner, and they can be made ahead of time and reheated for a quick and easy meal.
Chicken Burrito Recipe
To make a chicken burrito, you will need the following ingredients:
Ingredients
1 pound boneless, skinless chicken breasts, cooked and shredded
1 cup cooked rice
1 can (15 ounces) refried beans
1/2 cup chopped onion
1/2 cup chopped green bell pepper
1/2 cup grated cheddar cheese
1 tablespoon taco seasoning mix
6 large flour tortillas
Salsa, sour cream, and guacamole, for serving
Instructions
Preheat oven to 350 degrees F (175 degrees C).
In a large bowl, combine chicken, rice, beans, onion, bell pepper, cheese, and taco seasoning mix.
Spoon about 1 cup of the chicken mixture into the center of each tortilla.
Roll up the tortillas tightly, tucking in the ends.
Place the burritos on a baking sheet and bake for 15-20 minutes, or until heated through.
Serve immediately with salsa, sour cream, and guacamole.
Tips
Use shredded chicken that is cooked and seasoned to your liking.
If you don't have refried beans, you can use black beans or pinto beans.
Add your favorite vegetables to the filling, such as corn, tomatoes, or black olives.
Top the burritos with your favorite toppings, such as salsa, sour cream, guacamole, or hot sauce.
You can also make chicken burritos ahead of time and freeze them for later. Just wrap them tightly in plastic wrap or foil and freeze for up to 3 months. When you're ready to eat, thaw the burritos overnight in the refrigerator and then reheat them in the oven or microwave.
Cooking Time
Chicken burrito takes about 30 minutes to cook, including prep time.
Nutritional Facts
Calories: 664
Fat: 21g
Saturated fat: 8g
Cholesterol: 88mg
Sodium: 737mg
Carbohydrates: 83g
Dietary fiber: 9g
Sugars: 3g
Protein: 36g
What Makes A Burrito Taste Good?
There are a few things that make a burrito taste good. Here are a few of the most important:
Fresh, high-quality ingredients. A burrito is only as good as the ingredients that go into it. Use fresh, flavorful ingredients.
Proper seasoning. A burrito needs to be well seasoned to bring out the flavors of the ingredients. Use a variety of spices, like cumin, chili powder, and garlic powder.
A good balance of flavors and textures. A burrito should have a good balance of flavors and textures. The meat should be juicy, the rice should be fluffy, and the vegetables should be crisp.
A flavorful sauce. A good sauce can really make a burrito pop. Try using a salsa, guacamole, or sour cream.
A well made tortilla. The tortilla is the foundation of the burrito, so it's important to use a good one. A fresh, warm tortilla will make all the difference.
Conclusion
Making a chicken burrito at home is a great way to enjoy a delicious. Whether you prefer spicy or mild, with beans or without, this recipe is versatile and easy to adapt. By following the steps outlined above, you can make a flavorful and satisfying meal that is perfect for lunch or dinner. With its combination of protein, vegetables, and grains, the chicken burrito is a well-rounded dish that can be enjoyed by everyone. So why not try making your own chicken burrito at home today? Your taste buds (and your wallet) will thank you.
FAQS
How do I cook the chicken for a burrito?
You can cook the chicken for a burrito by grilling, baking, or pan-frying it. Cut the chicken breast into small pieces or strips, season with chili powder, cumin, garlic, salt, and pepper, and cook until it's no longer pink inside.
Can I use canned beans instead of cooking my own?
Yes, you can use canned black beans instead of cooking your own. Just drain and rinse them before using.
Can I freeze burritos?
Yes, you can freeze burritos.
Can I use other types of meat instead of chicken?
Yes, you can use other types of meat like beef, pork, or shrimp instead of chicken.