Who doesn't love a delicious cake? Whether you're a baker or just someone who loves a good treat, you'll appreciate the amazing taste of these mushroom cakes.
Combining the savory flavors of mushrooms with the sweetness of the cake is a combination that shouldn't be missed. With just a few ingredients, you can create an incredibly unique and delicious cake that will be sure to delight your guests.
Whether you're hosting a dinner party or just looking for a tasty treat to have on hand, these amazingly delicious mushroom cakes are sure to please. This recipe here will fit any occasion.
So, why not try out one of these amazing mushroom cake recipes? Let's Get Started
Ingredients Needed for Mushroom Cake Recipes
1 cup of all-purpose flour
1 teaspoon of baking soda
1/2 teaspoon salt
1/2 cup butter (at room temperature)
1/2 of granulated sugar
2 eggs
1/2 cup of milk
1 cup of chopped mushroom (such as cremini or shiitake)
1/4 cup chopped fresh herbs (such as thyme or parsley)
1/4 cup grated parmesan cheese
Step-by-Step Instructions for Making Mushroom Cakes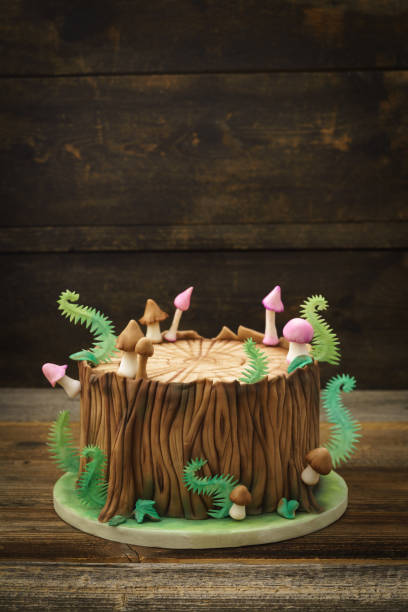 Preheat oven to 350 degrees Fahrenheit. Grease and flour in a baking pan.
In a medium bowl, whisk together flour, baking soda, and salt.
In the bowl of your electric mixer, cream butter and granulated sugar together until light and fluffy. Add eggs one at a time, beating well after each addition. Add milk and mix until well combined.
Add the dry ingredients to the wet ingredients, mixing until just combined. Stir in chopped mushroom, fresh herbs, and parmesan cheese until well combined.
Pour batter into prepared pan and bake for 30-35 minutes, or until a toothpick comes out clean when inserted into the center of the cake. Allow cake to cool completely before frosting or serving
Tips For Making Delicious Mushroom Cakes
Be sure to use the freshest mushrooms you can find. They will bring out the best flavor in your cakes.
Make sure that you are using the right amount of ingredients. Too much of one and not enough of another can result in a cake that doesn't turn out right.
Make sure that your oven is set to the correct temperature. You don't want to over-bake or under-bake your cakes because they aren't at the right temperature.
Make sure you are using the correct type of dish to bake your cakes in. It's important to use a dish that is the right size to allow your cake to rise properly.
Let your cakes cool completely before frosting them. You don't want to add hot frosting to a warm cake because it may cause the cake to fall apart.
Decorating Ideas for Mushroom Cakes
There are endless ways to decorate your mushroom cakes. Here are a few ideas to get you started:
add a few chocolate chips to the top of the cake for a sweet and delicious look
top with cream cheese frosting to give it a creamy texture
use different colored sprinkles for a fun and festive touch
create intricate designs with different color icings
or add fresh fruits like strawberries, blueberries, and mandarin oranges for an extra boost of flavor.
Add shredded cheese to the top of the cake before baking.
Drizzle melted chocolate over the top of the cake once it is baked.
Add chopped nuts to the batter before baking.
Add fresh flowers to the batter before baking.
Sprinkle crushed nuts on top of your cakes for a tasty decoration. You can also add a few slices of fresh fruit on top for a nice finishing touch.
Use sliced strawberries or fresh lemon slices as garnishes on top of your frosting. Use a variety of fresh berries to decorate your cake. They will add a pop of color to your finished dish.
Variations on Mushroom Cake Recipes
If you love chocolate, add a few tablespoons of cocoa powder to your cake batter. You can also add a few tablespoons of melted dark chocolate to your frosting for an extra chocolatey flavor.
If you love a fruity flavor, you can add a few tablespoons of fresh or frozen blueberries or strawberries to your cake batter. You can also add a few tablespoons of fresh or frozen mango to your cake batter for a tropical flavor.
If you love nutty flavors, you can add a few tablespoons of chopped walnuts or pecans to your cake batter. You can also add a few tablespoons of chopped hazelnuts for a unique flavor.
Serving Suggestions for Mushroom Cakes
These cakes are perfect for a special occasion like a birthday party or a special dinner. You can also serve them as part of a buffet table. To make them even more delectable, add a dusting of icing sugar or a drizzle of melted chocolate on top.
If you want to spruce things up a bit, serve them with some fresh fruits and berries, or a dollop of cream. You can also serve them with a side of ice cream or custard. Mushroom cakes are an exciting and unique dessert that is sure to tantalize your taste buds.
Conclusion
Mushroom cakes are a great way to enjoy the many benefits of mushrooms while also indulging in a dessert. They are a great way to add flavor to a dessert without adding a lot of calories or fat. They are also a great way to add nutrients to a meal.
Eating mushrooms can help to improve your digestion and lower your risk of digestive disorders. Eating mushrooms can also help you to lower your cholesterol and can prevent blood clots.
Eating mushrooms is also an excellent source of protein, so they make a great addition to any vegetarian or vegan diet.
These delicious mushroom cakes are sure to please anyone who loves mushrooms, and they're a great way to incorporate more mushrooms into your diet.