Determining what to eat, especially when trying a new restaurant, can be somewhat of a daunting experience. That's especially true for a fast food outlet like Taco Bell with a wide variety of dishes, from salads to tacos and even sandwich tacos, there are just so many items to choose from.
Determining the best thing to eat at Taco Bell will depend on how you define "best." For some people, it's the healthiest dish, which is pretty understandable, but for me and the vast majority of the population, the "best things" refer to the items that best cater to our taste buds.
In this article, you'll learn about the best things to eat at Taco Bell from different perspectives. First, you'll learn about some of the healthiest foods at the restaurant, before learning about some of the delicious ones. With that wealth of information, I'll trust you to make your choice on your next visit to the restaurant.
What is the Healthiest Food at Taco Bell?
If you're trying to stay fit as a fiddle, you need to watch what you eat, not only at Taco Bell but across all restaurants in the US. Since we're only talking about Taco Bell here, it makes a lot of sense to approach this topic by listing some of the healthiest items on the Taco Bell menu.
Taco Bell isn't the best place to go if you need to eat something healthy, but assuming that's your only option, here are some of the healthiest foods.

It's not my fault that vegetables are the healthiest, and yes, I don't fancy those veggie meals either. However, if health is your biggest priority when choosing a meal, the veggie bowl is still your safest option at Taco Bell. You can even make it healthier by letting go of the sour cream, aa that also packs a load of calories.
If you still need to eat Tacos, Taco Bell serves soft tacos that have a lot fewer calories than the average dish at the restaurant, while tasting almost as good. You can let go of the cheese and sour cream for an even healthier outlook, but should you even take the pains of doing that? I guess it depends on how healthy you're willing to go.
The $4.39 is undoubtedly one of the healthiest items you can get from the Taco Bell menu, and it also doesn't cost so much. It's only 500 calories, an impressive count for a taco with seasoned beef, lettuce, and cheese, carefully hidden out by the crunchy shell. It's certainly a Taco Bell item you should try.
Is Taco Bell Healthy for You?
Most of Taco Bell's offerings aren't the healthiest dishes by default, but the restaurant enjoys positioning itself as one of the healthiest fast food sources in the United States. Now, the pressing question on your mind is this: is Taco Bell healthy for you? I guess it depends on how aggressive you are.
When you're eating from the regular menu items with no customization, Taco Bell is just as healthy as any other fast-food outlet in the United States, and that is not a good outlook. However, there's a significant difference that sets this fast-food chain apart from the rest, which is why the health claims might hold water.
Most Taco Bell menu items are completely customizable, allowing you to remove part of the item you're ordering completely; no questions asked. If you think the cheese or sour cream is bad for you, fine, it's removed. In short, Taco Bell might be healthy for you if you're making a conscious choice to keep it healthy, otherwise, it's the same old.
What's the Best Thing to Eat at Taco Bell?
We've talked about healthy things to eat earlier, and it's time to ditch that and talk about the absolute best Taco Bell menu items. This list will be based on what most customers fancy, and you can't go wrong by picking one of them.
Without further ado, here are some of the best things to eat at Taco Bell for the best experience.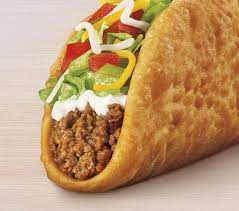 The Chalupa is just like a taco that's not quite a taco because the tortilla is pretty weird. While the full version of the original dish is the best way to experience it, it seems you just can't go wrong when you put anything into the wrap. Swap out anything that doesn't seem healthy to you, and you'll have a result that tastes better than the bulk of Taco Bell items.
It doesn't matter how bad the dish is, there are always some people who will hate it passionately unless that dish is of course the famed Chicken Quesadilla. If you haven't tried it out already, you should, and if you're anything like most Taco Bell customers, it should instantly become one of your frequent orders.
I guess the Quesarito is more of like a personal opinion than a customer's choice, but it's nonetheless one of the most popular Taco Bell menu items out there. You can replace the beef with something else if you're looking for a vegan Quesarito, and even with that, the taste is just amazing. Also one of the best things to eat at Taco Bell.
No Taco Bell list is quite complete if you haven't added the boss: crunchwrap supreme. With a soft tortilla on the outside and a crunchier inner shell, the crunchwrap is the perfect housing for whatever goes inside, and trust me, Taco Bell knows what's best for it. Stop asking questions; simply go ahead and order and you'll do it again.
Conclusion
When it comes to eating out at Taco Bell, there are just so many options for different people. If you're someone who is obsessed with the healthiness of foods, you have the veggie bowl and the soft tacos. The Quesarito and Quesadilla are available if all you want is the most delicious thing from the restaurant.